Have an Obstetrician?
An obstetrician and a midwife
You do not need to have an out-of-hospital birth to enjoy what a midwife can do for you in making this the safest, healthiest pregnancy for you and your baby.  Enjoy personalized care to enhance the health of you and your baby in-between your regular, routine obstetrician appointments.  Each package includes an in-office visit each month of your pregnancy and availability via phone or email.  Add on more visits to your concierge package as you wish.  I offer one-on-one support that works in concert with your doctor's standard of care.  I will teach you how to create an optimal pregnancy and birth, through nutrition education, the use of natural remedies safe in pregnancy, and guidance appropriate for the part of pregnancy you are enjoying.  You will learn about a variety of associated modalities that increase your well-being.  Visits last around 45 minutes each, giving ample time for you to have all of your questions answered and your concerns addressed.  I set a limit of how many moms I care for in my concierge services, so as to offer you individualized care.  Insurance billing is available.
Every woman deserves a midwife.
The Midwives Model of Care is based on the fact that pregnancy and birth are normal life processes.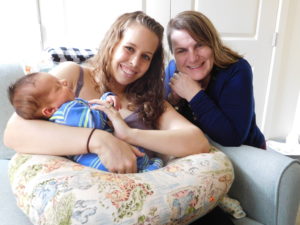 The Midwives Model of Care includes:
Monitoring the physical, psychological, and social well-being of the mother throughout the childbearing cycle

Providing the mother with individualized education, counseling, and prenatal care, continuous hands-

on assistance during labor and delivery, and postpartum support

Minimizing technological interventions

Identifying and referring women who require obstetrical attention
The application of this woman-centered model of care has been proven to reduce the incidence of birth injury, trauma, and cesarean section.
Copyright (c) 1996-2008, Midwifery Task Force, Inc., All Rights Reserved.
Although a midwife typically cares for a woman for her pregnancy and her birth, even receiving only midwifery care during pregnancy improves a woman's and her baby's well being.